From some time in last year, Mozilla firefox quitted supporting the old "plugins" and that left me no longer able to do video or voice calls by Google Hangouts. Besides, Firefox at that time did not do with HTML5 and did not show movies on Amozon video. Personally, by such things I left Firefox included as the default browser in Linux distributions (Ubuntu, Mint etc.) and switched to Chrome. However, Chrome also is not ideal, it does not allow customizing the tool bar to my taste, sometimes makes a trouble in writing multilingual texts on Facebook (on Linux) etc. So I needed Firefox occasionally...
Thus, I lived with complains on both Firefox and Chrome for the latter half of last year. Then on November, release of Firefox Quantum, a new much faster and modernized version was announced.
www.mozilla.orgI checked it with an excitment of expectation, and found it looks like a Chrome clone... It no longer shows the familiar bookmark button, Hangouts still does not work.. and I could not find a good reputation on the net. (Maybe the primary reason of the bad reputation is that Mozilla threw away the old plugins, though.)
Anyway, the speed is much better, Amazon video now works fine, and I gave it a try. The CPU and memory usage, lighter than Chrome in old days, looks like almost the same now.
I looked for the "Extensions" for screen shot, video download, Gmail etc. and installed.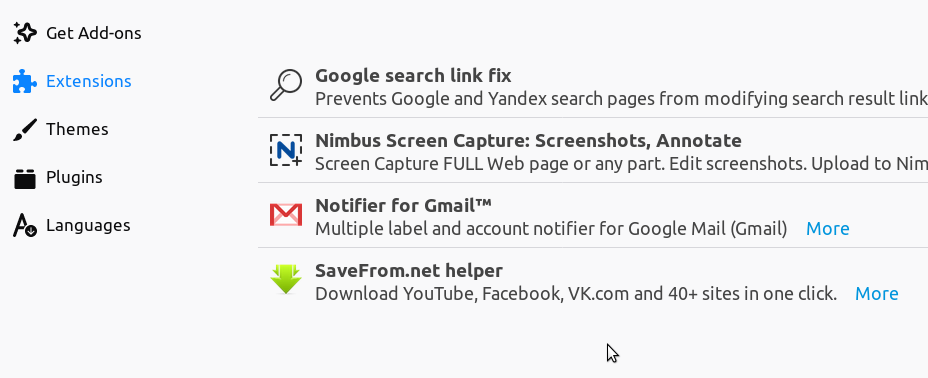 The book mark button is hidden but you can find it in the tool bar customization tab: settings (three-line or "hamburger" button) => customize, put the "Bookmarks menu" button (a star) into the tool bar. Now, it looks much familiar (for old users).
The right star is the bookmark button.
When I was using Firefox 58.0.2 on someday in February, I found the video/voice call by Google Hangouts works! I did not see any announcement about that!? Anyway, it makes me happy and Firefox has completely returned now.
I wonder why this important information does not come out at all... no body wants to use Hangouts on Firefox any more? Everybody already forgot about Firefox?
After using some time, it shows some problems like a few icons and links do not show etc. maybe because of strict compliance to standards (intolerance on dialects)?
PS1: By the way, if the problem of Chrome for you is just the bookmark things, an extension, "Bookmark icon" would ease it.
PS2: I found that Firefox has a built in screen shot! right click and select "Take a screenshot". No longer need Nimbus?
PS3: SNS share button display trouble occurs when the "Tracking protection (in Privacy & Security)" setting is "Always". Setting the default "Only in private windows" resolves the problem.